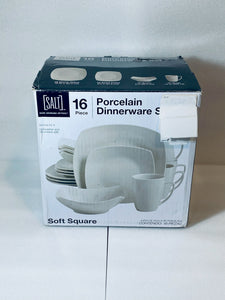 Lot #140 - new 16pc Porcelain Square Coupe Dinnerware Set - Threshold, White (MSRP $60)
AUCTION HAS ENDED
End date: 08-01-2023 - 07:12:00 PM
Winning bid: $14.50 (7 bids)
ALL ITEMS SOLD AS IS
Local Pickup Only: Package {1}
SKU #: ODL-030821221303 - 030630230919
UPC #: 492000108617
Approx. Weight: (29.5 lbs.)
Approx. Dimensions: (13" x 15 3/4" x 9 1/8")
Thi/ngs You Should Know: This plate set is new in box. Looks great! First six pictures are stock photos.
As Advertised Online:
Serve up a fashion forward feast with the Threshold Square Rim Porcelain Dinnerware Set. This 16-piece dinnerware collection includes 4 mugs, 4 cereal bowls, 4 salad plates and 4 dinner plates. All pieces are microwave and dishwasher safe, so they're perfect for everyday use. This square set is versatile enough for a simple snack or a stylish soiree.
•Features: Rounded Square (shape)
•Number of Pieces: 16
•Piece 1: Dinner Plate: 10.38 Inches (L) x 10.38 Inches (W) x 1.25 Inches (H)
•Piece 2: Salad Plate: 8.12 Inches (L) x 8.12 Inches (W) x 1 Inches (H)
•Piece 3: Bowl: 6 Inches (L) x 6 Inches (W) x 2.75 Inches (H), Capacity 24 Ounces
•Piece 4: Mug: 4.75 Inches (L) x 3.5 Inches (W) x 4.25 Inches (H), Capacity 13 Ounces
•Finish: Glazed
•Service For: 4
•Includes: 4 Salad Plates, 4 Mugs, 4 Cereal Bowls, 4 Dinner Plates
•Material: Porcelain
•Care & Cleaning: Microwave Safe, Dishwasher-Safe
•Durable porcelain build
•Contemporary square scoop design
•Microwave and dishwasher safe
•Great for everyday use
•Perfect for gifting & entertaining