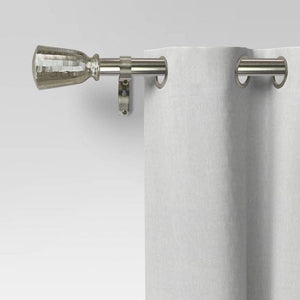 Lot #144 - new Threshold Curtain Rod, Nickel Finish - 36-66"
AUCTION HAS ENDED
End date: 08-01-2023 - 07:14:00 PM
Winning bid: $1.00 (1 bid)
Shipment Type: Package { 1 }
SKU #: ODL-030809221521 - 030617230943
UPC #: 191908459509
Approx. Weight: (2 Lbs 12.4 oz)
Approx. Dimensions: (43 1/4 x 3 1/8" x 2 1/2)
Things You Should Know: This is new, in box. Looks great. First three pictures are stock photos.
As Advertised Online:
Curtain rod holds anything from sheer curtains to heavier drapes in style
Chiseled cone-shaped finials provide a decorative look
Made from metal to hold light, medium or heavyweight curtains
Tarnish-resistant metal finish makes for lasting use
Extendable rod lets you get a custom fit
Style the look of your window decor with this Chiseled Cone Curtain Rod from Threshold™. This curtain rod is designed with chiseled cone-shaped finials on either end to provide a visually balanced and decorative look. Made from tarnish-resistant metal, it can hold either light, medium or heavyweight curtains. The adjustable length accommodates a range of window widths, while the matching mounting hardware allows for quick and easy installation.
Number of Pieces: 1
Unextended Length: 36 Inches
Weight: 1.85 Pounds
Finish: Nickel-Plated
Extended Length: 66 Inches
Diameter: Finial: 2.1 Inches
Bracket Projection: 3.5 Inches
Material: Steel