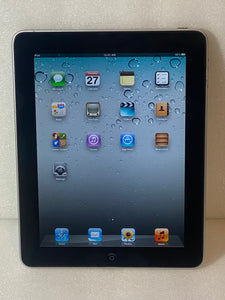 Lot #180 - Apple iPad 1st Generation 16GB MB292LL, Black/Silver Ungraded (VALUE $35)
AUCTION HAS ENDED
End date: 08-01-2023 - 07:26:00 PM
Winning bid: $4.00 (2 bids)
ALL ITEMS SOLD AS IS
Local Pickup Only: Package {1}
Sku #: JSR-050210222025-050124231621
Model #: MB292LL
Approx. Item Weight: (1 lbs. 7 oz.)
Approx. Item Dimensions: (9 1/2" x 7 1/2" x 5/8")
Things You Should Know:
Pictures within this listing are stock photos.
Apple Certified Technician Approved.
Comes with a 30-Day Hardware Guarantee.
Ungraded: This is typical of inventory that has not been given a grade from "A" to "C". This Ungraded inventory is not Grade D/Damaged inventory. The cosmetic look and feel can range from near perfect to blemishes that can be seen/felt. Please feel free to ask for pics and/or video of what your item will look like before making your purchase.
Configuration
IOS Software: Version 5.1.1 (No longer being supported on the App Store.)
Memory: 16GB