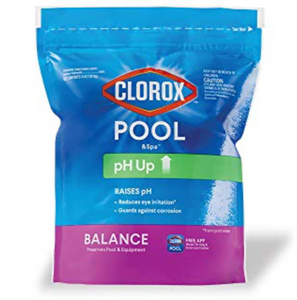 Lot #264 new clorox pool ph up - balance preserves pool & equipment (MSRP $11)
AUCTION HAS ENDED
End date: 08-15-2023 - 07:04:00 PM
Shipment Type: Package { 1 }
SKU #: JSR-031007211245
UPC #: 810821023061
Approx. Weight: (4.0 lbs)
Approx. Dimensions: (11 1/8" x 8 3/4" x 3 3/4")
Things You Should Know: Item is new, still sealed. First two pictures are stock photos. 
As Advertised Online:
Clorox Pool&Spa pH Up raises low pH in your pool so you can maintain a beautiful, swim-ready pool. The granulated formula dissolves fast and the easy pour application bag makes raising your pH simple.Low pH in your pool can cause red, irritated eyes and expensive corrosion damage to your pool equipment. Use pH Up as needed to achieve a suitable range of 7.2 to 7.6 to keep your water swim-ready and clear. Intended for use in traditional chlorine and salt chlorine pools. Before use, test and balance your pool weekly with the Clorox Pool app to maintain clear water, longer lasting equipment, and comfortable swimming. Maintaining proper pH of 7.2 to 7.6 is both important and easy. Important because if pH is too high, chlorine cannot effectively sanitize and disinfect your water, and water will irritate your skin and eyes when you swim. If pH is too low, corrosion can occur, and the pool water will irritate your skin. Easy, because all you need is the Clorox Pool app, the proper balancing product, and a regular maintenance routine to maximize the pool fun!
Raises low pH in swimming pool water
Reduces eye irritation
Guards against corrosion
Preserves pool and equipment
For best results, use with the Clorox Pool app to get personalized dosage recommendations