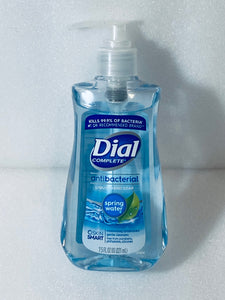 Lot #275 - New Dial Complete Antibacterial Liquid Hand Soap, Spring Water, 7.5 fl oz (MSRP $5)
AUCTION HAS ENDED
End date: 08-15-2023 - 07:08:00 PM
Winning bid: $1.00 (1 bid)
ALL ITEMS SOLD AS IS
Shipment Type: Package { 1 } 
UPC #: 017000026701
Approx. Weight: (9 oz.)
Approx. Dimensions: (7" x 3" x 2")
As Advertised Online:
GENTLE AND MOISTURIZING: Moisturizing as it cleans, this soothing liquid keeps even hard-working hands soft as well as delightfully scented. 
PROTECT AGAINST BACTERIA: Kills 99.9 percent of bacteria (bacteria encountered in household settings). 
TOUGH BUT GENTLE: Cleansing and conditioning blend together beautifully, in a hand wash that's mild for the whole family. 
SKIN SMART: Skin Smart formulas from Dial, formulated with moisturizing conditioners & gentle cleansers - Free From phthalates, parabens, and silicones. 
HOW TO USE: 1. Pump into hands 2. Lather vigorously in hands for at least 30 seconds 3. Rinse clean with water 4. Enjoy soft, healthy feeling hands.