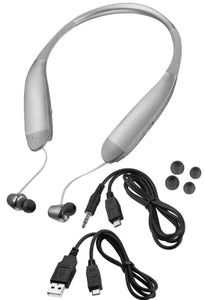 Lot #286 - Insignia Wireless In-Ear Over-The-Neck Noise-Canceling Bluetooth Headphones - Silver
AUCTION HAS ENDED
End date: 08-15-2023 - 07:11:00 PM
Winning bid: $3.55 (3 bids)
ALL ITEMS SOLD AS IS
Shipment Type: Package { 1 }
UPC #: 600603240355
Model #: NS-CAHBTEBNC-B
Approx. Weight: (9.4 oz.)
Approx. Dimensions: (8 1/4" x 7 1/4" x 1 1/2")
Things You Should Know: Opened package to ensure everything was 100%. Charged & tested. These headphones look like new. Distressed packaging. Pictures are stock photos.
As Advertised Online:
Enjoy up to eight hours of your favorite music with these Insignia Bluetooth headphones. Their in-ear design and noise-cancelling feature let you experience focused, immersive listening, and the in-line microphone provides hands-free phone operation, keeping you connected while you enjoy your playlist. These Insignia Bluetooth headphones have retractable earbuds for neat storage.
Product Features
Bluetooth 4.1 interface
Enables simple wireless pairing with your Bluetooth-enabled device.
Rechargeable battery
Offers up to 10 hours of use and lasts up to 200 hours on standby mode.
Noise cancellation
Effectively blocks out distracting background noises, so you can enjoy a focused, immersive sound environment.
In-ear design
Fits securely and directs music into your ears for full, uninterrupted audio.
Headset controls
Include volume, answer/end and next/previous track.
Built-in microphone
Enables simple hands-free chatting via a compatible device.
Stereo design