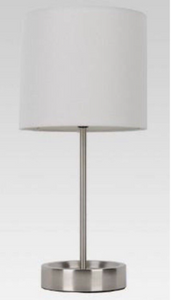 Lot #315 - New 19" Chrome Room Essentials Stick Table Lamp W/Power Outlet & Lamp Shade (MSRP $16)
AUCTION HAS ENDED
End date: 08-15-2023 - 07:21:00 PM
Winning bid: $3.00 (5 bids)
ALL ITEMS SOLD AS IS
Local Pickup Only: Package {1}
SKU #: ODL-010812221111
UPC #: 082803365708
Model #: HK-T02990
Approx. Weight: (2 lbs. 1.5 oz.)
Approx. Dimensions: (19 1/4" x 8 3/4" x 8 3/4")
Things You Should Know: First picture is a stock photo. This item is in new condition.
As Advertised Online:
Light up any space in your home with the charming, modern style of this Stick Table Lamp from Room Essentials™. Set on a thin rod with a round base, this table lamp features a drum-shape shade for an modern look you'll adore. The table lamp comes with a 120V/5Amps power port.