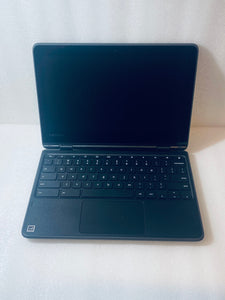 Lot #350 - Lenovo 300e 11.6" Flip Design Touchscreen Chromebook 4GB 32GB 2.1GHz, Dark Gray Ungraded (VALUE $80)
AUCTION HAS ENDED
End date: 08-15-2023 - 07:33:00 PM
Winning bid: $27.55 (16 bids)
ALL ITEMS SOLD AS IS
Shipment Type: Package { 1 }
SKU #: JSR-050328231635-050705231853
UPC #: 192158970561
Model #: 300e
Approx. Weight: (4 lbs. 4 oz.)
Approx. Dimensions: (17 1/2" x 9 3/4" x 2 1/2")
Things You Should Know:
The top of the laptop will have some etching. The laptop will have some scuffs/wear. See pictures for details.
Ungraded: This is typical of inventory that has not been given a grade from "A" to "C". This Mixed Condition, "Ungraded" inventory, is not Grade D/Damaged inventory. The cosmetic look and feel can range from near perfect to blemishes that can be seen/felt. Please feel free to ask for pics and/or video of what your item will look like before making your purchase.
As Advertised Online:
The 11.6" Lenovo 300e Flip Design Chromebook offers a unique computing experience enhanced by the internet. It is powered by 2.1GHz MediaTek MT8173c Quad-Core processor together with the 4GB LPDDR3 RAM that enables to multitask as well as quickly access frequently used files and programs. For storage of your files and documents, this Chromebook is equipped with 32GB eMMC-SSD. It's 11.6" features a 1366 x 768 resolution that is driven by PowerVR GX6250 so you can enjoy crisp and clear HD content. This Lenovo 300e Chromebook is preinstalled with Google Chrome OS that is reliable with performance manageability features that suits your needs and work exclusively with web applications.
Google Chrome OS; work exclusively with web applications
2.1GHz MediaTek MT8173c Quad-Core; delivers high performance and speed
4GB LPDDR3 RAM; ample memory to multitask with ease
32GB eMMC-SSD; provides ample storage to save your files, documents and other multimedia content